Balaton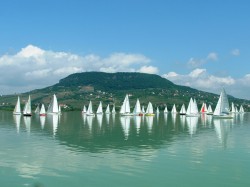 The lake, situated in the middle of Transdanubia and it is often referred to as the "Hungarian sea". The Balaton is 77 km long and, with its opal, yellowish-green, silky water, it is one of th
e country's most treasured natural assets and the most popular holiday area. It has a surface area of close to 600 sq.km. and is the largest lake i
n Central Europe. The shoreline runs to 195 km, the widest part of the lake is 14 km and the deepest point is 12,4 meters. All along the shore there are pleasant beaches; the shallow water in the south is ideal for children while the northern side is better suited for swimmers. In the summer the temperature of the water varies between 20 and 26 centigrade, and be warmer than the surrounding air in the morning and evening. The water and the silky mud of the lake have a curative effect on nerve disorders, anemia and fatigue.
The Tihany (pronounced Tee-hine) peninsula, a national park since 1952, has several towns on it, the most notable of which is called, appropriately, Tihany (or Tihany Village). Because the peninsula is a protected area, building activity's heavily restricted; consequently, this area maintains a rustic charm that's unusual in the Balaton region.
The Tihany peninsula also features a lush, protected interior, accessible by a trail from Tihany Village, with several little inland lakes – including the properly named Inner Lake and Outer Lake – as well as a lookout tower offering views out over the Balaton.
Balatonfured is a small town with the historic atmosphere on the north shore of Lake Balaton. The town looks back on a past of more than two thousand years, as there has been a settlement here since Roman times. It became truly significant in the 19th century, however, when it was considered one of the most important centers of culture and social life in the country. Famous poets, writers and politicians spent the summer here, and were cured of their ailments.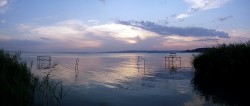 Siofok, the largest resort town on Lake Balaton, is at the lake's southeastern end. Its growth dates back to the 1860s, when Budapest was first connected to the southern shore of the lake by rail. Thus, we suppose, nobody can remember a time (other than the war years) when Siofok was not overrun by summertime travelers. Today, bustling Siofok caters to a young, active crowd of students and teenagers who fill every inch of the town's beaches all day long and then pack their sunburned bodies into the town's discos until the early morning hours.
.