Danube Bend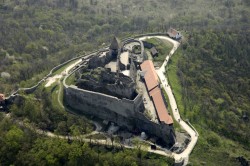 Szentendre town is the first place we come to go north from the capital on the Buda side of the river Danube. Possessing something of a Mediterranean atmosphere this town has always been favored by artists as somewhere both to live and to work. Visitors are attracted to Szentendre not just by the charm and the atmosphere of the place, but by its excellent cuisine too. It is a town that more than once in history has been settled by the Serbian immigrants, and this is reflected today in its houses and its beautiful churches with breathtaking iconostases.
The remains of peel towers witness that Visegrad was at one time on the limes of the Roman Empire. Later, King Saint Stephen settled the religious hierarchy here and remains of his church have been uncovered behind Solomon's Tower, named after the legend which says that the Hungarian Prince Solomon was imprisoned here. The whole area is dominated by the citadel high up on the hill, and even in its ruined state it is a formidable sight. Outdoor equestrian events, contests of strength, and mediaeval festivals are staged during the summer months, with renaissance feasts held in the citadel itself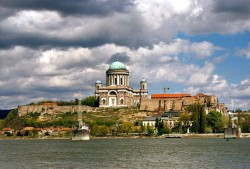 Just twelve miles further north from Visegrad is the royal town of Esztergom, the first capital of Hungary and birthplace of King Saint Stephen, the first king of Hungary. It has remained an important royal and ecclesiastical centre for centuries; today the restored castle is an impressive museum and its great hall has been a venue for scientific conferences. The Basilica, commandingly situated a top the Castle Hill, is Hungary's largest church. One of its side chapels, the Bakocz Chapel, is amongs the finest monuments of the renaissance period in Hungary. The Cathedral Treasury is richly endowed, and is also open to visitors. Nearby is an important statue of King Saint Stephen; in the evening light with the newly rebuilt Maria Valeria bridge to Slovakia, it makes a stunning picture. The Christian Museum is situated in the Primate's Palace, and its collection of Italian paintings, Gobelin tapestry, faience and porcelain is well worth seeing.