Hungary as the country of therapeutic waters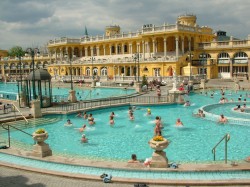 Hungary is extremely rich in thermal waters. Its thermal water reserve is significant both on a world and on European scale. Most of the mineral and medical contain dissolved minerals endows them with curative powers, and makes them suitable for bathing and drinking cures.
Currently there are more then a thousand hot sprigs in Hungary that give + 30 C hot water most of which are of medicinal use. Among the 150 water spas of the country there are 36 special places, where the water contains radioactivity, sulphurous acid, salt bromine carbonate or iodine.
The abundance of spas in Budapest is unparalleled by international standards. The hot springs on the Buda side were used by the Celts and the Romans, and the name of Aquincum may also refer to the springs of the Roman time. The springs of various temperatures and therapeutic effects supply a daily volume of 70 million liters. 123 thermal and 400 mineral springs come from 14 sources. Sulphurous water comes from the bore well on the Margaret Island, most are calcareous therapeutic waters (Dagaly, Gellért, Lukács, Rác, Rudas, Széchenyi and Császár Baths), salty is the spring of the Pesterzsébeti Bath, while that of the Csillaghegyi bath is a simple hot water spring.
Budapest's finest green spot is the Margaret Island (Margitsziget) located in the middle of the Danube between Margaret and Arpad Bridges. Margaret Island thermal water was originally brought to the surface in 1886. It enters the spa at a temperature of 70 C. It is then cooled to 34 C, 36 C and 40 C but while retaining its unique, curative ingredients.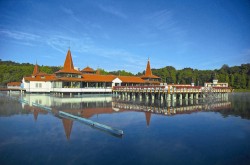 The Heviz lake near the lake Balaton is the largest warm water lake of curative powers of Europe, which is embraced by 50 hectares of protective forest. According to present data the lake is 38,5 m deep. The water of the of Heviz is «warmed» by geothermal energy, its temperature is the result of the mixture of warm spring waters and karst water gushing forth from the depth of the Earth. The temperature of the water fluctuates around 33-35 C during most of the summer, in autumn and winter depending on the weather the temperature of the lake is lower, but it does not drop below 22 C.
Debrecen is the second largest by population city in Hungary. The city's medicinal water has a temperature of 63 C and a high alkali chloride, hydrogen carbonate, iodine, bromine, sodium chloride, and it also contains a significant amount of calcium, magnesium and metaboric acid.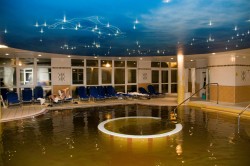 Hajduszoboszlo lies 20 km west of Debrecen and it is a famous place of medical spas. Most of them «only» provide pleasant recreation on hot summer days but there are also thermal hot springs that contain mineral salts and offer cure for different diseases. The one in the town of Hajduszoboszlo, is probably the most famous of them all.
Medical waters are good for those who are sick or suffer, however they can be dangerous as well if they are not used as instructed.
The thermal baths and associated treatments offered in Hungary can be recommended for the following conditions.
Indications: rheumatic diseases of the locomotive system, chronic locomotor disorders, arthritis, osteoarthritis, of the spine and joints, gout, polyarthritis, ankylosing spondylarthritis, discopathia, soft tissue rheumatism, tenosynovitis, degenerative diseases of vertebral joints, lower back pain, frozen shoulder, static dysbalance, post injury and post operative rehabilitation of joints and spine, fibromyalgy, exhaustion, respiratory catarrh, chronic periferical circulatory disturbances, nervous disorders, psychosomatic diseases, vegetative problems, geriatric regeneration, post accidental and vertebral operative rehabilitation, dermatitis, gynaecological diseases, paralysis due to apoplexy, certain dermotoparthy.
Not recommended cases: infectious diseases, malignant tumors, leukaemia, seriaus cases of anaemia and haemophilia, acute thrombosis, acute rheumatism, acute inflammations, bronchial asthma, circulatory insufficiency, hyperthyreoidism, feverish condition, pregnancy, endometriosis, incontinence, certain skin conditions, epilepsy, auto-immune diseases, severe hypertony, diseases of central nervous system, hyperthyreotic syndromes, febrile diseases, alcoholism.
It is important to know that patients are 'dosed' with medical bathing according to scientific studies and the medical experience of several centuries. The treatments are chosen individually according to specialist examination result.